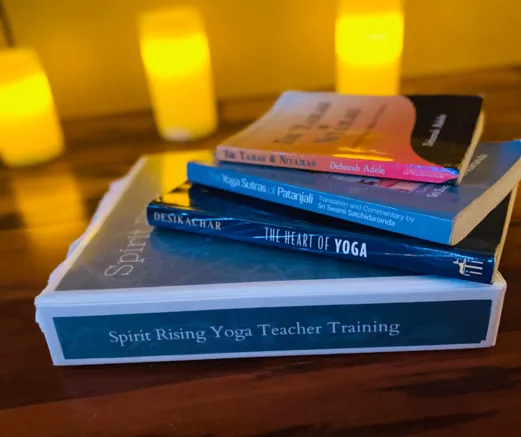 Its time for you to...
Expand your mind, Fuel your Passion, Deepen YOUR practice
No experience or previous training are necessary for this course - only a desire to find your authentic self. Establish or deepen a daily asana and meditation practice, learn to live and teach yoga while opening to the radiance of who you are.
The 200 hr. Foundations of Yoga Teacher Training program has two parts:
Deepening your Practice (Part 1)
Deepening Your Practice is for anyone serious about deepening their practice, opening their heart, and expanding their soul. Deepening your practice is available to anyone interested in shedding their old ways and bad habits and shifting into a new space of strength, peace, confidence and compassion. Desire to teach is NOT necessary. If you have had interest in teacher training and thought "I want to deepen my practice but don't know if I want to teach" then this program is for you!
Learn
♦ Pranayama (breath) to energize, strengthen or calm the body and mind
♦ Utilize the breath to bring healing
♦ 14 meridian lines and how they are used in asana, calming nervous system and strengthen immunity
♦ Benefits of asana including why and how they work
♦ Deepen your understanding of poses and their effects
♦ Asana sequencing to strengthen the body and create a balanced practice
♦ The muscular-skeletal components of selected postures and how to safely find poses for your body (or your students)
♦ Yoga history, the wisdom of the Yoga Suturas and and how they can cultivate a new understanding of a modern world.
♦ Introduction to Ayurveda and how its wisdom assists practice
♦ Learn about the foods we eat and how to have a healthy digestion to bring balance to the dosha's and strengthen immunity.

Develop
♦ The ability to concentrate and improve memory
♦ A stronger immune system
♦ Increase strength, stamina, flexibility, and balance
♦ A strong connection to self, and how to connect to others
♦ Confidence, self esteem, expression of your authentic self
♦ Shed your past wounds and create a stronger self

Included in Immersion tuition
♦ Unlimited yoga classes
♦ Course binder and class materials (excluding books).
♦ Strong roots into our yogic community
♦ Mentoring process to become a strong teacher
Deepening Your Practice Immersion Dates: Spring 2023*
| | |
| --- | --- |
| Wednesdays 6:00 pm- 10 pm (some are virtual) | Sundays 9:00 - 5:00 |
| June TBD | June TBD |
| July TBD | July TBD |
*Must also take 2 classes per week (Can be virtual or in-person)
Tools for a Teacher (Part 2)
Tools for a Teacher will include class observation and in depth methodology on how to teach Spirit Rising Yoga. If you are interested in becoming a teacher then both parts are necessary.
♦ Mentoring process to be a yoga teacher
♦ Observing classes from a teachers perspective
♦ The skills necessary to teach yoga - Sequencing intelligence
♦ Detailed direction in how to teach Spirit Rising Yoga
♦ To read the body and adapt poses appropriately for your students
♦ Enhancements, modifications and adjustments for all students
Tools for a Teacher Dates:Spring 2023
| | |
| --- | --- |
| Wednesday's 6:00 pm - 10 pm | Sundays 9-5 |
| Aug. TBD | Aug. TBD |
| Sept TBD | Sept TBD |
Included in Part 2 Yoga Alliance Certification tuition:
♦ Class observations & assisting
♦ Unlimited Yoga
♦ Mentoring process to be a confident teacher
The Yoga Teacher Training program has two parts. Part one is Deepening your Practice Immersion. Part two will include class observation and in depth methodology on how to teach Spirit Rising yoga. If you are interested in becoming a teacher then both parts are necessary. Deepening your practice is available to anyone interested in shedding their old ways and bad habits and shifting into a new space of strength, peace, confidence and compassion.
**No refunds account credit only
Call or email for more information
810-2208571
This program exceeds the Yoga Alliance requirements and is a Registered Yoga Alliance School.
We are State of Michigan certified school.
Here are reviews from our recent participants:
"I have taken yoga classes at MSR since about April 2017. I had never taken a yoga class in my life prior and believe I was led here for reasons that only became obvious after about 6 months. Lisa, her studio and approach to yoga created a place for healing for me that I was largely unaware I needed. This changed in Dec of 2017 during the last position offered in a yoga class that unexpectedly triggered parts of a memory that was just not ok. That difficult experience, which Lisa brought me through, began a journey with an eclectic group of practitioners who helped me identify and address the physical, emotional, and spiritual damage that had been with me for much of my life. It has been a time of deep healing in all three of these areas, although there is still some work to be done. This is the backdrop that sparked my interest in Deepening Your Practice.
I wanted this question answered, what IS yoga, really? And what is Lisa really teaching as my body tries to take these shapes? When Deepening Your Practice became available last Fall, I decided it was time to find out. I took only Part 1 of this class as I did not want to become a yoga teacher. I wanted to understand how this practice brought me back to life. It was clear to me that the physical practice, daily meditation, and breathwork I had already been doing was helpful. But I didn't know the why. So, I launched into this class with 5 other participants and learned more than I imagined. I began to understand how much yoga encompasses beyond the physical; to see and experience how our body functions beyond the bones, blood, and tissue; to understand how the Chakras are directly related to the yoga positions I strive to attain; how breath, meditation and yoga poses work together; and where all this can ultimately lead. There is so much more. I know I will be returning to the course materials to reread and remember how all this is connected to me, to you, to the Universal Life in whatever way we define that. If you are to Deepen Your Practice, you will know when the time is right. And you will have a choice to only deepen your practice or to also become a yoga teacher." Namaste -Mary H.
"In the fall of 2016, I participated in the "Deepening Your Practice" course at Spirit Rising Yoga. I had no intention of moving on to the teacher training module, I just wanted to improve my own yoga practice and to explore the spirituality side of it. Over the course of 17 sessions, we played with the poses and emphasized the energy of the practice. We learned about energy lines, chakras, meridians, nadis, koshas, layers of energy and how to tap into it to help us heal. We touched on Ayurvedic medicine, learned anatomy, practiced meditation, mantras and mindfulness. We read from several sources and had many fascinating discussions ranging finding our edge in physical practice, to living the Yamas and Niyamas, to the underlying spirituality of yoga as an individual connection to "Source". I learned new insight and a different way of thinking regarding everyday interactions. I started the process of letting go of old emotional scars, learned to see others with less judgement and found a measure of peace. I have learned to forgive myself for being "perfectly imperfect" . And, along the way I made friends with a fabulous group of ladies. Thank you, Lisa, for guiding us, encouraging us and gently nudging me until the lesson finally clicked into place. You have given me many "aha" moments and a new way of looking at life, spirit and the interconnectedness of those around us. I am so very pleased that I joined this course. Because my best is yet to come!" - Jackie
"What can I say, Spirit Rising is my Happy Place!! The studio energy, positivity, friendly students, and knowledgeable teachers brought me to this studio and kept me coming back for more. After practicing here for 6 years, I am now a proud member of the Yoga Teaching community that has emerged from Spirit Rising. I am humbled by the love and guidance Lisa has provided me on this very special journey. I encourage everyone to start their Yoga journey today! and Spirit Rising is an excellent place to start!!! - Anna R.
Spirit Rising Scholarship Application (temporarily suspended)
To award scholarships, we take in a variety of factors in addition to financial need. Please answer the following questions and email to : [email protected]
Spirit Rising is committed to providing opportunities to a wide audience including socio-economic or veteran status, race, ethnicity, gender or sexual orientation.

In 150 – 300 words, please describe how you will benefit from the training.
In 150 – 300 words, please describe how you will take this training back to your community. How will you use this training to inspire and reach a diverse population?
Please provide contact information as well as occupation.
Annual Household Income?

Total number in household?
Are you a dependent on someone else's taxes?
Any extraordinary expenses, large debts or other circumstances that you would like us to consider?
---
Find out more now. Call or Email to save your space
Spirit Rising Yoga & Healing LLC
Teacher Training Course
8571 W. Grand River, Suite 1000
Brighton MI 48116
Call: 810-220-8571
---
Reiki Training
Reiki simply means source energy. It is the Universal life force energy and is all about love, balance & empowerment. Ki is the crucial indicator of life and our connection to spirit. Ki is related to the Hindu term PRANA believed to be the nutritive subtle energy that is taken in during the process of breathing. Reiki is a Japanese technique for stress reduction and relaxation that also promotes healing. It is administered by "laying on hands" and is based on the idea that an unseen "life force energy" flows through us and is what causes us to be alive. If one's "life force energy" is low, then we are more likely to get sick or feel stress, and if it is high, we are more capable of being happy and healthy.
Training consists of 3 levels, each a minimum of 21 days apart. Students will learn history, hand placement, philosophy and all of the necessary information to practice confidently. Each level includes an attunement process where by Reiki is transferred from teacher to student.
Please call or email to find out our next scheduled sessions.